Gates and Grids
Overview
Council has the responsibility for the control, care and management of our public roads, however, provision of Council's Gate and Grid Policy transfers responsibility to the landowner for gates and grids which are permitted for use.
Council seeks to provide a simple and consistent process for the management of gates and grids on public roads within the region to allow for the safe movement of vehicular traffic but to prevent the passage of livestock.
Council's Gate and Grid Policy is to be read in conjunction with Charters Towers Regional Council Local Law No. 1 (Administration) 2021, which itself has been enacted by Charters Towers Regional Council under the powers vested in it through the Local Government Act 2009.
Council issues permits for the erection of gates and grids primarily for the control of livestock on Council's road network. Council's Local Law No. 1 regulates the conditions and approvals pertaining to gates and grids.
Applications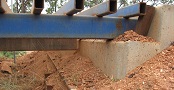 F0254 Application for Gate or Grid Permit
F0227 Application to carry out Works on a Road
Should you wish to change gate or grid ownership, please click the following link F0292 Application for gates/grids transfer of ownership
Publications
Grid Drawings and Specifications
Charters Towers Regional Council implements a number of standards and specifications in regards to civil design and utilities and these have been made available for the benefit of the public.
The purpose of these drawings is to provide typical standard details and whilst all care has been taken to ensure the accuracy of these drawings, in the case of any discrepancies, please contact Council on 07 4761 5300 to advise.
Copyright of these drawings is vested with Charters Towers Regional Council.