drumMUSTER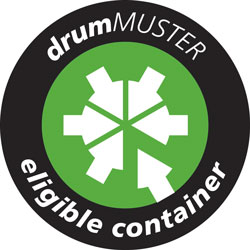 drumMUSTER is a program run by Agsafe with Council for the collection and recycling of clean empty agricultural chemical containers.
The service for the Charters Towers Region is by appointment only. To make an appointment for this service, please contact Council's Infrastructure Services Department on 07 4761 5300.
Recycling your clean agricultural chemical containers is easy – just follow these steps:
Triple rinse or pressure rinse chemical containers immediately after use – drums are easier to clean before the residue dries.
Pour the rinse water back into your spray tank – this saves you chemical and ensures chemicals don't pollute your property or the environment.
Make sure all chemical residue is removed – check around the thread for chemical that's dried on – you may need to use a scrubbing brush to remove dried on residue.
Remove lids and allow containers to dry thoroughly – take lids along to the collection separately – they can be recycled too.
Deliver your eligible, clean, empty containers as per the appointment schedule.
Containers will be inspected on delivery before being accepted. Containers with chemical residue cannot be accepted.
The plastic and metal from drumMUSTER containers is all recycled into new products.