Flying Fox
Ecosure Flying-Fox Hotline: 0400 714 379
Charters Towers is leading the way in bat management
What is being done about it?
There is an unprecedented amount of work being undertaken in the Charters Towers region thanks to a $2.7 million government commitment to reducing the conflict between humans and flying foxes.
Charters Towers Regional Council is leading the way to explore future flying fox management strategies by collaborating with the State Government, CSIRO and a variety of local stakeholders. By shifting our focus to research and working together, we are finding answers to our community's biggest questions: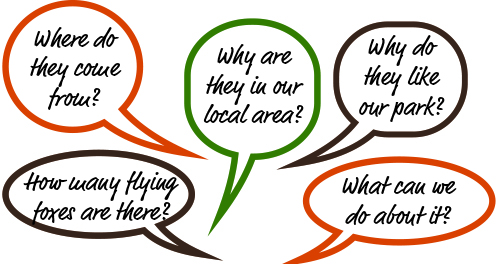 Some of the projects being undertaken to answer these questions include:
satellite tracking of bats
analysing what attracts bats to roosting sites
finding out their favourite seasonal foods and using that to predict their movements
reviewing all past management actions and their effectiveness.
We know that research does not sound like action, but it's the best way to make sure public money is not wasted on repeating methods that we know do not work in the long run.
Charters Towers Regional Council have tried almost every trick in the book to encourage them to move on: