Young Endeavour - Community Scholarship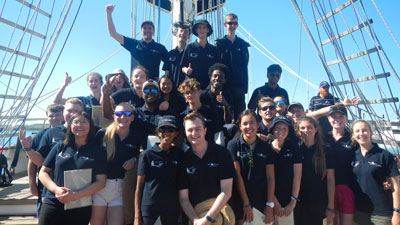 Charters Towers Regional Council has secured one (1) berth on the national sail training ship "The Young Endeavour" for a voyage in 2023 and is now seeking applications from individuals interested in taking part in this life changing experience.
The Young Endeavour Youth Scheme partners with a number of organisations who offer scholarships for students, staff and young people in the community to join a voyage on Young Endeavour. A voyage on the tall ship Young Endeavour is a life-changing experience and offers much more than simply learning to sail.
Young people take away with them skills for life, including communication, leadership, teamwork, self-esteem and a greater understanding of themselves and each other. As one of the 24-strong youth crew, the successful candidate will meet the challenges of sailing the tall ship including climbing the 30m mast, setting sails, navigating, keeping watch and taking the helm, and live 'between decks' in a close community with other youth crew from a diversity of places and backgrounds.
NO PRIOR SAILING EXPERIENCE IS REQUIRED
The successful applicant will sail from Mackay on 18 July and arrive in Cairns 28 July, with transport to the place of departure and home once the voyage has been completed their own responsibility.
A voyage aboard Young Endeavour is not a leisurely cruise, but rather adventure training at sea. Each youth crew member is expected to participate fully in all aspects of sailing a tall ship.
Activities include:
Climbing aloft and working 30 metres above the deck, requiring enough upper body strength to support his/her own body weight and coordination of limbs to climb and haul on ropes both on deck and aloft;
Watch keeping duties which necessitate working extended periods and may result in limited and broken sleep;
Living and working with other people in confined spaces and often arduous conditions; and
Learning new skills and routines to ensure both individual and shipboard safety.
Eligibility
The Candidate must:
be an Australian citizen or permanent resident;
be 16 – 23 years old on the day of departure of the voyage;
be able to swim 50 metres;
weigh less than 120 kg and be in good health;
not have previously sailed in Young Endeavour;
be a resident/boarding student of the Charters Towers Regional Council area; and
make a presentation to Council on conclusion of the journey for Council's Public Record.
Offers are provisional until the candidate completes a Young Endeavour Youth Scheme health questionnaire, including their doctor's assessment of their ability to undertake the voyage. All expenses associated with this process will be the candidate's responsibility. This may be subject to further assessment by the Navy Fleet Medical Officer. A copy of the mandatory health questionnaire can be provided on request.
Please note for safety reasons there are certain medical conditions, including some controlled by medication, which may preclude participation in the voyage, for example:
Diabetes Mellitus
Epilepsy
Depression and Mental Illness treated by medication
Severe Asthma
Communicable Diseases such as Chicken Pox, Glandular Fever and German Measles
Broken or sprained limbs
Pregnancy (due to increased possibility of seasickness and complications such as ectopic pregnancy)
While the Young Endeavour Youth Scheme will make every effort to place the candidate on a voyage, the unique nature of the activities undertaken aboard a tall ship may require the need to take the candidate's safety, and that of the ship and other crew, into account when considering any health issues that may potentially be exacerbated by lack of sleep, sea sickness or physical exertion.
How to Apply
Applications can be made by:
Completing an ONLINE FORM
Downloading an application HERE. Paper nominations should be returned via one of the following methods:
In Person: 12 Mosman Street, Charters Towers
Email: mail@charterstowers.qld.gov.au
Mail: Chief Executive Officer
Charters Towers Regional Council
PO Box 189
CHARTERS TOWERS QLD 4820
Closing Date
Nominations close at 4pm on Friday, 31 March 2023.