Organisational Structure
Charters Towers Regional Council has adopted a high-level organisational structure that consists of a Chief Executive Officer who is supported by a Director, three Executive Managers and a Management Leadership Team.
The Chief Executive Officer and other members of the Executive Leadership Team partner with staff and Councillors to deliver expected outcomes to the community.
Council's organisational structure is designed to support the achievement of Council's vision and key objectives. Reviews of the organisational structure ensure the optimal deployment of resources to deliver identified corporate priorities.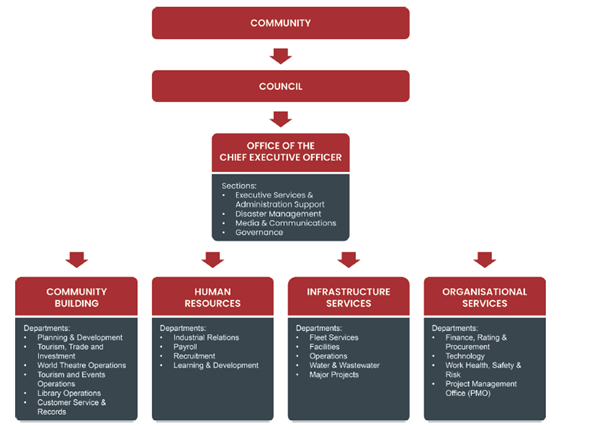 Executive Leadership Team
Council's Executive Leadership Team (ELT) is comprised of the following personnel:
Martin Drydale is Council's Chief Executive Officer and was appointed to the position in July 2022.

Martin is an experienced local government professional with 40 years' experience in both UK and Australian local government and the private sector. His background is in strategic executive and financial management with prior roles in corporate services, infrastructure delivery and maintenance, planning and development, and information technology systems implementation.

Martin's role as CEO at Council is to provide strategic leadership and direction to its staff, volunteers, and contractors, and ensure that the community's aims and objectives as outlined in Council's Corporate Plan are implemented effectively and efficiently.

Martin is also directly responsible for:

Mayor and Councillor Support
Governance and Compliance
Media and Communications
Executive Support Services
Advocacy and Lobbying

Brett Parsons is the Director Infrastructure Services Brett joined Charters Towers Region Council in October 2022.

He has over 40 years' experience in developing and managing municipal infrastructure within private and public organisations. Most recently developing and managing road, water & wastewater infrastructure, assisting local government and water authorities in the Canberra Region.

With over 20 years in local government in NSW and the ACT Brett is currently tasked with providing direction for the Infrastructure Services teams in delivery of many of Council's services to the community.

As Director Infrastructure Services, Brett is responsible for managing and providing strategic direction to a number of areas including:

Fleet Services
Facilities
Operations
Water & Wastewater
Major Projects

Hayley Thompson is the Executive Manager Community Building and was appointed to this role in October 2022.

Hayley has over 20 years local government experience and prior to commencing in this role she was the Manager Community Services.

As Executive Manager Community Building, Hayley is responsible for providing strategic direction to a number of areas including:

Planning and Development
Tourism, Trade and Investment
World Theatre Operations
Library Operations
Tourism and Events
Customer Service and Records

Alysha Gallo joined Charters Towers Regional Council in 2020 and is the Executive Manager Human Resources.

Having worked in the Queensland local government and private sectors including small to medium businesses and multinational companies, Alysha's background is a human resources generalist specialising in industrial relations.

Alysha is responsible for managing and setting the strategic direction of various human resources functions including:

Recruitment
Payroll
Industrial Relations
Learning and Development

Debbie Wilson is the Executive Manager – Organisational Services at Charters Towers Regional Council and was appointed to this role in October 2022.

Debbie has over 20 years experience in finance and corporate services within the not-for-profit, disability, chartered practice, and energy sectors. Prior to commencing in this role she was a Chief Financial Officer in the not-for-profit sector.

As Executive Manager – Organisational Services, Debbie is responsible for managing and providing strategic direction to a number of areas including:

Finance, Rating & Procurement
Technology
Work, Health Safety & Risk
Project Management Office (PMO)