Cemeteries
General Information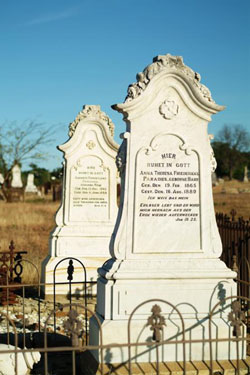 The Charters Towers Regional Council administers and maintains seven (7) cemeteries within the Region. They are the Lynd Highway Cemetery and Pioneer Cemetery (Charters Towers), Mingela Cemetery, Ravenswood Cemetery, Pentland Cemetery, Sellheim Cemetery and Greenvale Cemetery.
The Lynd Highway Cemetery was established in 1895. It is the resting place for a number of interesting local characters, including Jupiter Mossman who, as the local lore has it, was one of the party that discovered gold in Charters Towers; Doctor Leonard Redmond, who discovered Australian Dengue Fever; Frederick Pfeiffer, owner of the rich Day Dawn PC Mine and James Knenniff, who was the last bushranger in Queensland.
Council maintains a Register of Burials for each of its Cemeteries. The Register of Burials for Charters Towers (including Pioneer Cemetery) is available, however for each of the other Cemeteries, please contact Council for burial information.
Council cannot guarantee the current listing of headstones/memorials is up to date.
For further headstone/memorial information, contact Charters Towers Archives or the Charters Towers Family History Association Incorporated, who aim to promote and preserve research into local and family history for the benefit of the community.
Application Forms