Smart Hub Charters Towers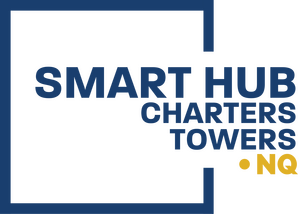 Charters Towers Regional Council is proud to have collaborated with Smart Precinct NQ to deliver our very own Smart Hub Charters Towers.
Smart Hub Charters Towers can assist entrepreneurs and businesses through a range of online and face to face business support programs facilitated by business experts.
What is on offer to you NOW!
Highly subsidised programs to the tune of $500 for Charters Towers participants (valued at $2500) Limited Places Available.
Up to Three (3) FREE Business Mentoring Sessions – click on link below to book YOURS TODAY!
Mentoring sessions | Smart Precinct NQ (spnq.org)
Current programs available, but not limited to:
Start-up On Ramp (Subsidised)
The Founders course is designed to show you what is needed to get your idea off the ground, give you the core skills needed to test your idea and teach you to pivot if the initial idea won't succeed. If you're already up and running, this course will teach you how to be successful, from getting customers, building the right teams and how to start growing your business. Suitable for software/internet, hardware, physical product, and services.
I Activate (Subsidised)
A course designed to help those businesses that want to have a social impact on their communities and further. If your business can make a difference to the world, on a massive scale, this is the course for you. This "business for good" course is affiliated with CQ University for micro-credential upon completion. Suitable for software/internet, hardware, physical product, and services.
Big Little Business Bootcamp (Subsidised)
An intentionally small group, this course is ideal if you are wanting to go over all the essentials of operating a business. Confirming your business values, becoming your own financial detective, marketing to roles, goals, and processes, are just some of the topics covered. Perfect for small to medium business wanting to increase understanding and grow confidence.
Business Mentoring (Three Sessions Free)
If you have an idea or patent, book a mentoring session with our very own resident business and investment expert Lydia Canovas. Lydia will assist you to create and develop your very own growth and investment roadmap for you to work on. By exploring your journey and needs, Lydia can assist by investigating what other supports SPNQ or their partners may be able to provide you with. Suitable for anyone wanting to start or scale a business.
Business Growth Advisory (Fee For Service)
Business growth and developmental skills offered to both early stage and well-established businesses. Covering areas such as revenue earning potential, goal setting, marketing strategy and implementation. This service is delivered by experienced business owners and consultants. Suitable for small to medium businesses.
Click the links below to register your interest and read more about what Smart Hub Charters Towers and Smart Precinct can offer you.
Smart Hub Charters Towers (spnq.org)
Home | Smart Precinct NQ | Townsville (spnq.org)
Once enrolled into a program, you will be able to access the library space and a Smart Hub Charters Towers representative.Monthly meetings, First Wednesday Connect, I Activate Showcase and many more are just some of the online and in person events which will be conducted at the Excelsior Library.
There is an information table set up at the Excelsior Library with enquiry forms for you to fill out if you are interested in talking to someone. Just fill it out and we will pass your information along to the Smart Precinct team.