Planning Services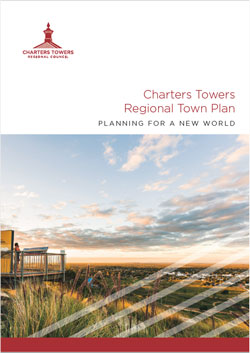 On Wednesday 17 July 2019, Council resolved to adopt the Charters Towers Regional Town Plan (the Town Plan) which commenced on Monday 29 July 2019. An amendment (being Version Two) was made to the Town Plan on Wednesday 29 January 2020 to include the Local Government Infrastructure Plan (the LGIP) and an Administrative Amendment which commenced on Monday 10 February 2020.
A copy of the Town Plan including the Charges Resolution with the mapping and extrinsic material related to the LGIP provided as hyperlinks within their respective parts is provided below.
The Town Plan categorises land into zones and with specific assessment levels for Reconfiguration of a Lot, Material Change of Use, Building Works Assessable and Operational Works. Depending upon the type and nature of your development, differing codes and policies of the Town Plan will apply. For more information on preparing and lodging your Development Application, please access:
In addition to the Town Plan, Council on Wednesday 28 October 2020 resolved to adopt the Infrastructure Charges Resolution (No. 3) 2020 (the Charges Resolution). The Charges Resolution categorises the local government area into Charge Area 1 being Charters Towers City and Greenvale and Charge Area 2 being the balance of the Region.
Charges for Charge Area 1 are capped at approximately 25% of the total Prescribed Amounts whilst Charge Area 2 are capped at approximately 12.5% of the total Prescribed Amounts resulting in fair and reasonable charges for development.
In accordance with Schedule 24 of the Planning Regulation 2017, a copy of Council's Infrastructure Charges Register is located here which details all levied charges issued since the adoption of Council's first Charges Resolution in 2011.
To provide a summary of the development activity across the Region, Council has prepared the following information: