Industrial Development
Industrial zoned land – Charters Towers
The Charters Towers Regional Council area currently has approximately 94 hectares of vacant land allocated for a range of future industrial land uses.
Industrial zoned land is shown in the Charters Towers Regional Town Plan.
Council's Regional Development team is able to assist with enquiries regarding proposed industrial development and offers free pre-lodgement advice.
For all enquiries, please call Council on 07 4761 5300.
Industrial land sale – Charters Towers
With the development of North Queensland's greater resources sector, Charters Towers Regional Council is open for business. As part of its offering, Council has eight (8) prime located, fully serviced industrial lots on the market which are attracting strong interest from local and regional business operations looking to support the renewed interested in the mining and resources sector.
The lots are located in the Cunningham Industrial Estate located on the Flinders Highway servicing the Townsville – Mt Isa resources corridor. The estate is accessed via Hugh Quinn Crescent and is highly accessible to the Flinders Highway and 2.5 kilometres from the Charters Towers City Centre. The lots are high exposure sites, well elevated, well priced and ready to go.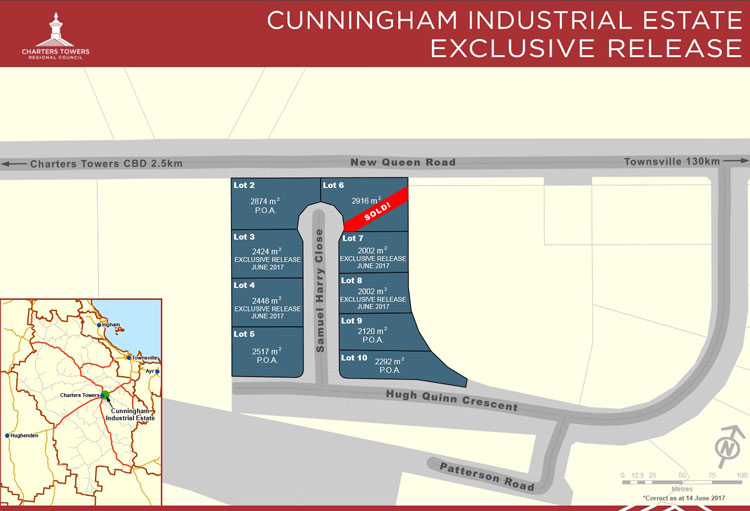 In addition, the region hosts a supply of other available freehold lots within the Industry and Industry Investigation Zones of the Charters Towers Regional Town Plan Version 2. These range in size and services and are suitable for primarily industrial uses.
Economic Development Opportunity
Charters Towers Regional Council has purchased three parcels of land totalling 777 hectares, on Stockroute Road, west of Sellheim.
The land which borders the banks of the Burdekin River, has been earmarked for future economic development opportunities.
For all enquiries, please contact:
Melanie Lavelle-Maloney
Tourism, Trade & Investment Advisor
P: +61 (0) 7 4761 5300
E: invest@charterstowers.qld.gov.au